Dollar Drug has been helping customers since 1984 and was the first compounding pharmacy in Sonoma County. We're proud to be known as one of the last great independent pharmacies around. You'll find every member of our staff to be knowledgeable and helpful. While our commitment to personal service is still the most important aspect of our business, we offer many patient care services, such as compounding (including veterinary compounding), diabetic supplies, ostomy supplies, immunizations, and hormone consultations with Jane Kennedy, NP. Through all the growth and modernization, Dollar Drug has managed to maintain the intimacy of a neighborhood pharmacy.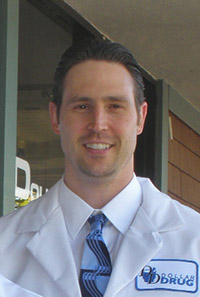 Mark graduated from Portland State University in 1994 with a degree in physiology. He received his Doctorate of Pharmacy from UOP in 1998. He has practiced community pharmacy in the Bay Area for over 20 years and has special interests in fitness and nutrition. Mark enjoys cycling, weight training, basketball and his family.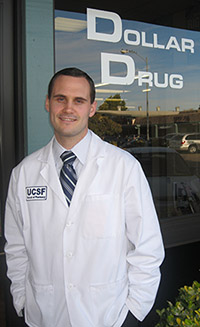 Franco graduated from the University of California at Davis in 2008 with a Bachelor's Degree in Biology with an emphasis in cellular and molecular biology. He then went on to graduate from the University of California at San Francisco School of Pharmacy to obtain his Doctorate of Pharmacy Degree. Since graduating in March of 2012 Franco has taken a position at Dollar Drug where he continues to serve the Sonoma county community. Franco's interests include traveling, nutrition, cooking, hiking, running and viticulture and enology.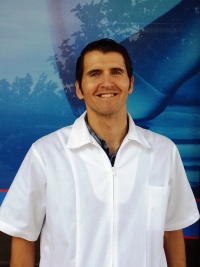 Francisco graduated from Occidental College in 2003 with a degree in kinesiology. He then continued his education and received a Doctorate of Pharmacy in 2006 from University of the Pacific. Francisco is an avid cyclist who enjoys spending time outdoors and traveling with his family.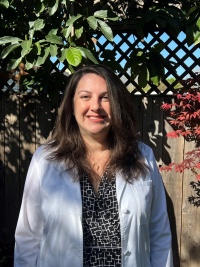 Taryn graduated from the University of California, Berkeley in 2006 with a B.S. in Chemistry. She went on to receive a Doctorate of Pharmacy from the University of California, San Francisco in 2012. After working in San Francisco for almost a decade, she relocated to Santa Rosa where she enjoys exploring Sonoma County with her husband and dog.